roof repairs | re-roofs | new roofs | flat roofs | lead work & more!
ROOFING ROTHWELL, NORTHAMPTONSHIRE
Local | Trusted | Experienced Roofing Contractors
LOOKING FOR THE BEST ROOFERS NEAR ME IN ROTHWELL?
With a commitment to providing only the best roofing services, we'll ensure that your needs are dealt with swiftly and to the highest standard. We can take care of all your roofing requirements, including Re-Roofs, New Roof installations, Repairs, Flat Roofs, & More.
We always provide exceptional customer care and ensure that all work carried out exceeds your expectations.
Check out below to see our services, and contact us any time to discuss your roofing issues and schedule a free survey.
ROOF REPAIRS
We're always on hand to deal with any roofing repairs that you need. We will conduct a survey, assess the required work and what caused your roof to fail, and then provide you with a detailed quotation. Once you are happy to proceed, we will schedule a date for your roof to be repaired and ensure that you are left with a quality repair that will last for years to come. Here are the roofing repair services we offer in Rothwell and the surrounding areas.
Leaking Roof Repair
One of the biggest issues with all types of roofs is leaks, and in many instances, they are not difficult to resolve.
Missing | Slipped Tiles
A roof tile can become dislodged or broken due to age, previous poor workmanship, or high winds, and adverse weather.
Emergency Roofing Repair
Emergency roof repairs may be required due to harsh weather, falling debris, or your property being struck by something.
Flat Roof Repairs
Whether your flat roof is leaking or you have noticed some damage, we can address the issue and resolve it swiftly.
Pitched | Gable Roof Repair
Very common roof type in the UK. If yours is leaking, missing a roof | ridge tile, or needing any repairs, we can help.
Garage Roof Repairs
Whether your garage roof is pitched or flat, if you have noticed a problem, then taking action quickly will minimise the repair.
Lead Flashing Repairs
Signs of lead flashing failing can be staining and leaks in your property; or missing mortar between the lead and brickwork.
Chimney Repairs
Chimney repairs can include repointing the brickwork, addressing cracks, and replacing faulty leadwork.
Commercial Roof Repair
We offer commercial roofing repairs as well as residential repairs. Contact us for more information.
More about our roofing repair services in Rothwell
Roof repairs are an essential aspect of maintaining structural integrity and functionality. Over time, roofs are exposed to various weather conditions, such as rain, wind, snow, and sunlight, leading to wear and tear. Other factors like age, improper installation, lack of maintenance, and severe storms can also contribute to roof damage. Recognising the need for timely repairs is crucial to prevent further deterioration and protect your property from potential hazards.
There are several reasons why roof repairs are necessary:
Leaks: One of the most common problems with roofs is leaks. Leaks can occur due to damaged or missing tiles, cracked flashing, deteriorated sealants, or improper installation. If left unaddressed, leaks can cause water damage to the building's underlying structure, insulation, and interior, leading to mould growth, rot, and compromised structural integrity.
Weather Damage: Extreme weather events such as storms, heavy rains, hail, and high winds can cause significant damage to roofs. Strong winds can uplift or dislodge tiles, while hail can puncture or crack them. Roof repairs after weather damage are crucial to restore the protective barrier of the roof and prevent further problems.
Ageing and Wear: Roofs have a limited lifespan, and with time, they naturally deteriorate. Exposure to UV rays, temperature fluctuations, and general wear and tear weaken the roofing materials, leading to cracked tiles, granule loss, and sagging. Regular inspections and timely repairs can extend the lifespan of your roof and prevent more extensive damage.
Structural Integrity: A well-maintained roof plays a vital role in preserving the structural integrity of the entire building. Damaged or weakened roofs can compromise the stability of the structure, leading to costly repairs and safety hazards. Addressing roof issues promptly helps maintain the overall integrity and longevity of the building.
When it comes to roof repairs, hiring a professional and reliable roofing contractor is essential. At KJI Roofing Rothwell, we are a reputable company known for our expertise in caring for our client's roofing needs. We offer various services to address roofing issues, including repairs, replacements, and maintenance.
KJI Roofing Rothwell stands out for several reasons:
Experience and Expertise: With years of experience in the roofing industry, KJI Roofing Rothwell has the knowledge and expertise to handle different types of roofing systems. They understand the intricacies of various roofing materials and can provide effective solutions tailored to your specific needs.
Skilled Roofing Professionals: The team at KJI Roofing Rothwell consists of experienced and trained roofing professionals who are proficient in diagnosing and repairing roof problems. They use high-quality materials and employ industry best practices to ensure long-lasting and durable repairs.
Comprehensive Services: Whether you need minor repairs, complete roof replacements, or regular maintenance, KJI Roofing Rothwell offers comprehensive services to cater to your roofing needs. They can handle everything from fixing leaks and replacing damaged tiles to installing new roofing systems.
Customer Satisfaction: KJI Roofing Rothwell prioritises customer satisfaction and aims to provide excellent service. We communicate clearly, provide competitive quotations, and ensure that the repairs are completed efficiently and within the agreed timeframe.
By choosing KJI Roofing Rothwell, you can have peace of mind knowing that your roofing needs are in capable hands. Our expertise, professionalism, and commitment to quality makes us a reliable choice for roof repairs and other roofing services.
When you need the best roofing repairs near me, we are here to help. Feel free to reach out any time 01536 907 192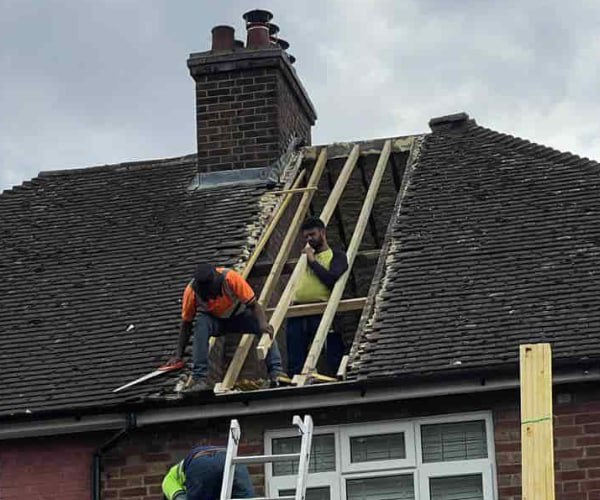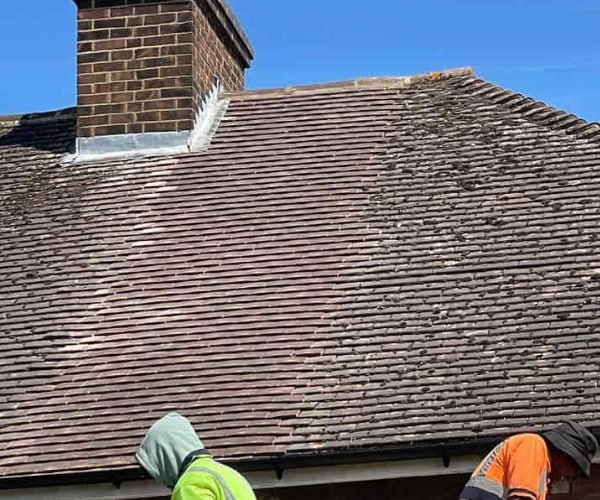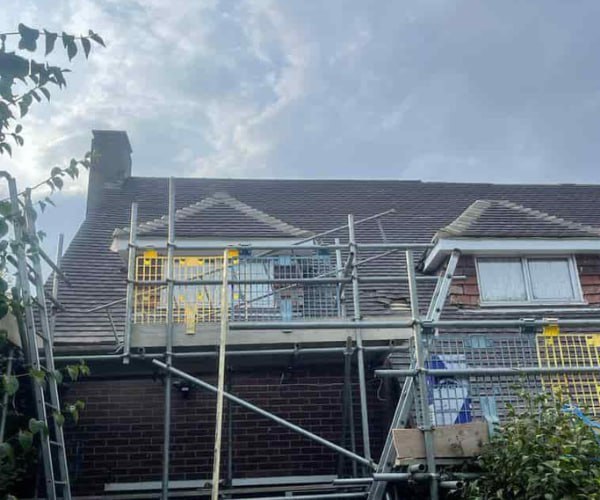 ROOF REPLACEMENTS & NEW ROOFS
If your property requires a replacement roof, then we can help. We can replace any roof type and install it to the best standard, which will last for years to come. We also construct and install new roofs, so whether you are carrying out an extension or a new build project, we will ensure your new roof is designed and installed to meet all your needs.
Pitched Re-Roof
Pitched roofs are durable and long-lasting but will ultimately reach a point where replacement is required. A pitched roof replacement involves a full strip down, back to the rafters, and then new felt, battens, new roof and ridge tiles, plus any necessary leadwork, leaving you with a roof that's as good as new.
New Pitched Roof
We can design and construct a new pitched roof, ensuring it's installed to current building regs and perfect for your home. We are also able to install to architect's drawings as well. No matter if your chosen roof covering is tiles, slate, or something else; we'll ensure your needs are taken care of.
Hipped Re-Roof
A hipped re-roof will involve removing the existing roof covering back to the rafters and installing new felt, battens, and tiles. This will also include ridge and hip tiles (also referred to as bonnet tiles) and then completing any required leadwork. Leaving you with peace of mind your roof is in perfect order.
New Hipped Roof
From initial design to installation, we can ensure that your new hip roof is constructed to an exact standard and complies with all necessary building regulations. Whether you require us to design and build or install to drawings, we'll make sure your new roof is perfectly suited for your property.
Flat Re-Roof
We offer flat roof replacement. Whether you require the same covering as you already have, or something different, we can help. The surfaces we offer include Asphalt, EPDM, Felt, Fibreglass, GRP, Lead Flat Roof, and Liquid Plastic.
New Flat Roof
A flat roof is a simple, cost-effective solution for many roofing needs. Whether required for an extension or as part of a new build, we'll ensure your new flat roof is perfectly installed and will last for many years to come.
Mansard Re-Roof
Full strip down and replacement of a mansard roof. Many different tile options are available to suit your requirements. We can also renew leadwork as necessary, ensuring that your re-roof is perfect for your needs and the aesthetic looks of your property.
New Mansard Roof
A more complex type of roof construction than a conventional pitched or hip roof. We can construct your mansard roof and ensure it meets necessary building control regulations. We can offer both design and build, or construction to your architect's drawings.
Dormer Re-Roof
We will strip and replace your dormer roof and ensure the replacement is constructed to meet your needs. Many options are available, including tiled or lead finish.
New Dormer Roof
Whether you need a complete new roof incorporating a dormer or want a new dormer installed into your existing roof, we can help. A perfect solution if you are considering a loft conversion.
Mono Pitched Re-Roof
Mono-pitched roof replacement involves a full strip down, inspection of the structure, and then replacement of your roof covering.
New Mono Pitched Roof
Whether for a new build property or as a renovation of an existing structure, we will construct your perfect mono-pitched roof.
Commercial Re-Roof
We can replace all types of commercial property roofs, ensuring they are fit for purpose and will last for years.
New Commercial Roof
All Commercial roofs installed, whether flat or pitched. We can also install any roof finish that you require.
Our roof replacements & new roofs services in Rothwell
At KJI Roofing Rothwell, our team of skilled professionals is dedicated to delivering quality workmanship and exceptional customer service on every project we undertake.
Roof Replacements: If your existing roof is ageing, damaged beyond repair, or no longer meets your needs, it may be time for a replacement. Our experienced team will assess the condition of your roof and provide an honest evaluation. We understand the importance of a solid and reliable roof in protecting your property, and we are committed to ensuring the safety and longevity of your building.
When you choose us for your roof replacement, we guide you through the entire process, from material selection to the final installation. Our expertise and attention to detail ensure a seamless and efficient roof replacement that exceeds your expectations.
New Roof Installations: A properly installed roof is essential for long-term durability and protection if you're constructing a new home or commercial building. Our team at KJI Roofing Rothwell specialises in new roof installations, ensuring that your property gets a roof that meets your functional needs and enhances its overall aesthetic appeal. We work closely with you from the initial design stage to the final installation. Our skilled team utilise industry-leading techniques and top-quality materials to deliver a new roof built to last.
Customer Satisfaction: At KJI Roofing Rothwell, customer satisfaction is our top priority. We understand that roofing projects can be a significant investment, and we strive to make the process as smooth and stress-free as possible. Our team communicates openly and transparently, providing regular updates throughout the project and addressing any questions or concerns you may have.
We take great pride in our attention to detail, ensuring that every aspect of the roof replacement or new installation is executed with precision and professionalism. Our commitment to delivering outstanding results has earned us a reputation for excellence in the industry.
Trust KJI Roofing Rothwell for Your Roofing Needs: When you choose KJI Roofing Rothwell for your roof replacement or new roof installation, you can trust that you are working with a reputable and reliable roofing company. We bring years of experience, expertise, and a dedication to quality to every project we undertake. We aim to provide a roof that offers exceptional protection and enhances your property's overall value and appearance.
For any re-roofing or new roof installations that you require, please get in touch with us on 01536 907 192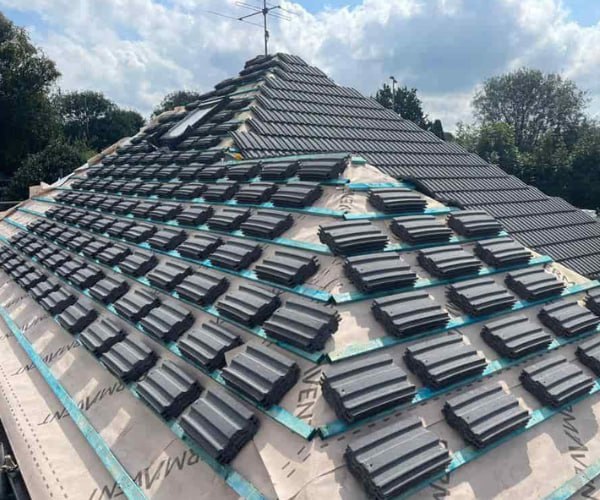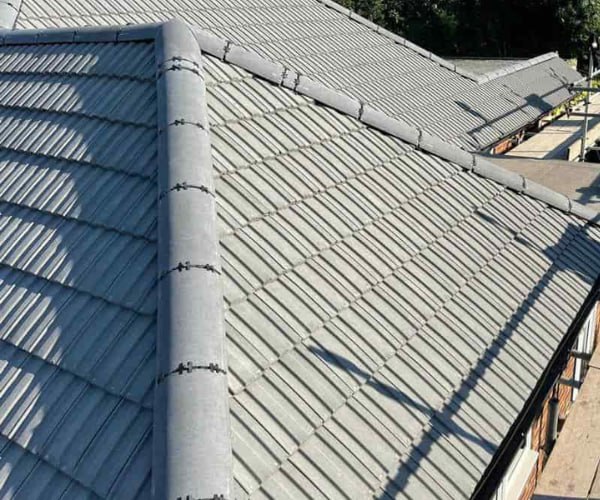 Other Roofing Services
Here are other roofing services that we provide. If there is something specific that you require, then we will be able to help. Please get in touch with us anytime to discuss your requirements.
Fascia, Soffits & Guttering
A crucial part of any roof construction to ensure your roof is weatherproofed, and to enable rainwater to be channelled away as necessary. We offer fascia, soffit, and gutter installation as a standalone service or combined with roofing repairs or new roof installation.
Leadwork
Leadwork is a crucial part of many roof types, and ensuring your lead is suitably installed is essential. We can undertake all types of leadwork, whether you need a repair or complete replacement. Our leadwork services are available for all roof types.
Repointing
The mortar between your bricks can fail and start to break down, thus leading to water ingress. We can repoint your chimney, or if your ridge or hip tiles need re-bedding, we can take care of it.
Velux Window Installation
A Velux is a window installed into a pitched or gable roof. They are an effective way to add daylight to a loft space. We will ensure that your new Velux window is installed correctly and to regulations.
Discover the other roofing services we offer
At KJI Roofing Rothwell, we pride ourselves on offering a comprehensive range of roofing services beyond the conventional. While we specialise in roof repairs, replacements, and new installations, we are pleased to extend our expertise to various other roofing needs.
Our team is dedicated to enhancing the longevity and functionality of your roof, which is why we provide services such as Fascia, Soffits & Guttering. These elements are vital for the aesthetic appeal of your property and for maintaining proper water drainage and preventing damage caused by rainwater.
In addition to this, our skilled team excel in Leadwork – a crucial aspect of roofing that requires precision and attention to detail. Our expertise in Leadwork ensures the protection of vulnerable areas of your roof from water infiltration and contributes to the overall structural integrity.
We understand the significance of preserving your property's historical and aesthetic value, which is why we offer Repointing services. This process involves renewing the mortar joints between bricks, safeguarding against moisture and deterioration while enhancing your roof's visual appeal.
Furthermore, our proficiency extends to Velux Window Installation, which adds natural light and ventilation to your living spaces while seamlessly integrating with your roof's design.
Whether you are a homeowner seeking to improve your residence or a business owner requiring commercial roofing solutions, all our services are tailored to meet your needs. We take pride in our commitment to quality craftsmanship, using the finest materials and adhering to the highest industry standards.
At KJI Roofing Rothwell, we aim to provide holistic roofing solutions that blend functionality, durability, and aesthetics. With years of experience, a dedicated team, and a passion for excellence, we are your trusted partners in maintaining, enhancing, and elevating your roofing experience.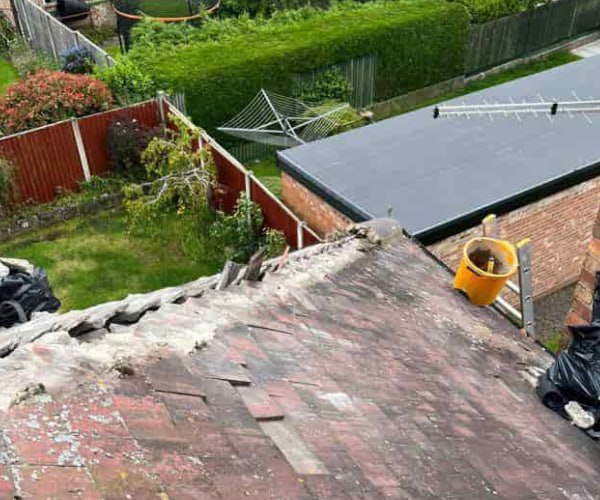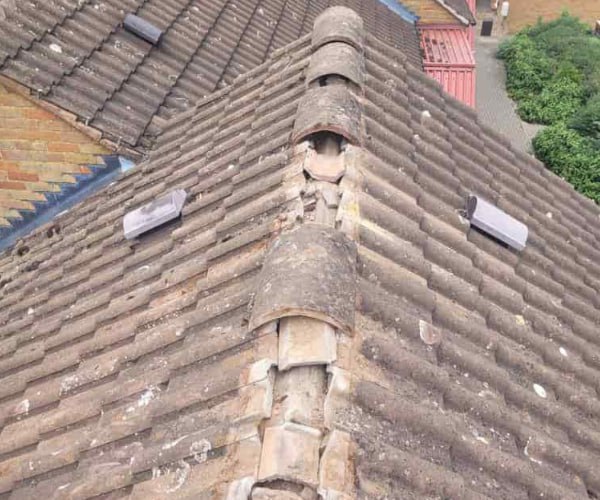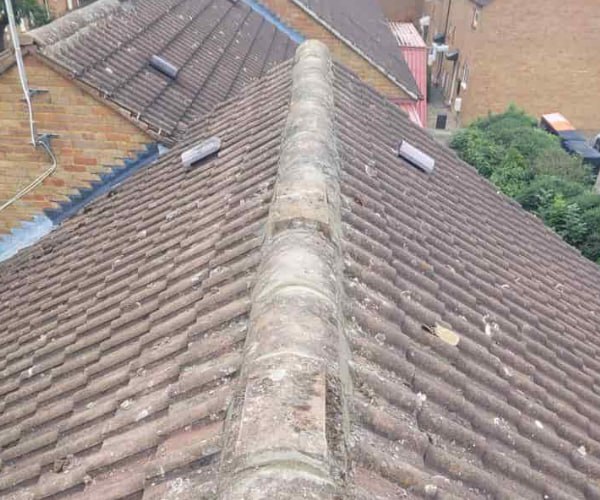 Types of roofs we work on.
All our services are available to residential and commercial clients throughout Rothwell. Here are just some of the different types of roof structures that we work on:
Pitched Roofs
Gable Roofs
Hip Roofs
Flat Roofs
Slate Roofs
Tiled Roof
Mansard Roof
Dormer Roof
Mono Pitched Roofs
and more…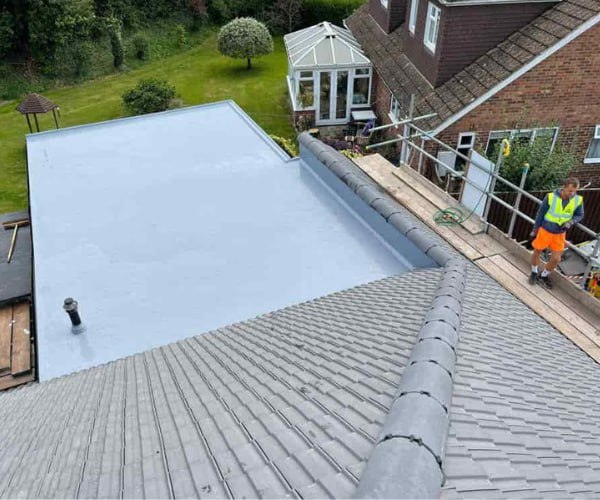 About Us
At KJI Roofing Rothwell, we are passionate about delivering a service that will exceed our client's expectations. We do this by offering the best possible customer care and ensuring our roofing work is of the highest quality. Our roofers have decades of combined experience and have tackled every imaginable type of roofing repair and installation, so you can be sure you're in safe hands with us. This may be why we are becoming known as the best roofing contractor in Rothwell, Northamptonshire, and the surroundings.
If you want to learn more about our roof repair, maintenance, and installation services, we'd love to hear from you. Please get in touch with us and schedule your free site survey.
You can find out more about us here.
Roofing Companies Near Me
Our roofing services are available in Rothwell and the surrounding areas of Northamptonshire. Including: